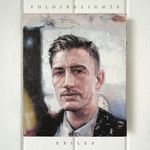 Hi Everyone.
If you've been enjoying the recent 'Fear The Night' single from FoldingLights, or been at some of the recent live shows, we're pleased to say that the full EP 'Exiles' is out today. We've added a few links below to make it slightly easier for you but it's also available on spotify, apple music and all the usual streaming sites.
If you've got a spare couple of minutes we'd really appreciate it if you could head over here to the astepfwd site before the end of today, and vote for FoldingLights 'Fear The Night'.
Thanks everyone. Hope you enjoy the EP. Add it to your spotify and Apple Music playlists and let others discover FoldingLights.
The 7Core Team. 
Click here and check out the video. Be sure to help us share it around on your social media.