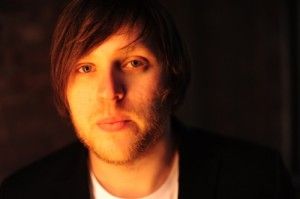 Ian is a Christian singer/songwriter/musician from Liverpool, UK, passionate about sharing the good news of Jesus Christ with everyone. He is married to Kate, they have 2 young boys, Jackson and Elijah and he leads musical worship at their home church, Bootle Elim.
Ian is also part of Elim Sound, an exciting initiative that seeks to inspire, create and equip worship leaders and teams within the Elim movement of churches through networking and resourcing.
June 2012 saw the release of his highly acclaimed second album entitled 'Good News' his first release on 7Core Music.
Here's what the reviewers said:-
"One of the finest worship albums ever to emanate from the British Church"
Christian Marketplace Magazine 
"An exciting album and one that looks set to become a major player in the UK CCM scene."
Geoff Howlett – Never For Nothing 9/10
"Envelope pushing musical arrangements and poignant praises of God's love and mercy"
Andy Argyrakis – Christianity Today (USA) 4/5

Ian's 2nd album on 7Core 'DNA' was released in November 2014. It reached number 5 in the UK Official Christian and Gospel album chart, and won contemporary album of the year in NFN's 2014 annual awards.
'DNA' is an inspired, innovative album, polished and sparkling, bursting full of energy, and with a heartfelt passion that is both infectious and appealing."
Dave Wood (Louder Than The Music)
"God I Need You, A tune for us all."
Martin Smith (Formally Of Delirious)
"DNA will be the most important album to get this summer. It's stunning."
Jono Davies (Louder Than The Music)

September 2016 saw the release of Ian's 3rd 7Core album release 'Awaken To Love', to glowing reviews.
Produced by Trevor Michael and recorded at Martin Smith's 'Bones Studio', the album features the number 1 single High Wire (co-written with Nick Herbert), No Longer I (co-written with Matt Redman and Sam Blake), and also a cover of the Beatles classic 'All You Need Is Love'.
"I feel like I've got my sound," says Ian. "I hope there's a depth to it, that it's not just nice songs but a journey that connects people to God. My heart has always been to take the music outside the church walls. I've always aimed to make the kind of music that can be given to someone who feels far away from God or who is not a Christian. I want to create something that might help people encounter God's love and goodness."
Awaken To Love is, quite frankly, a refreshing take on praise, worship, testimony, and encouragement.
Chris Major - The Christian Beat 4.6/5
The record feels genuine from start to finish and holds the attention of the listener while still inviting them to get lost in well-crafted moments of worship.
Caitlin Lassiter - New Release Today 4/5
This album is track after track of pure quality. Most albums these days would love to have at least two tracks of this quality on their album, Awaken To Love has plenty of top songs.
Jono Davies - Louder Than The Music 5/5
To my mind, Ian Yates is one of the best British worship leaders and songwriters and is up there with the Redmans and Hughes.
Tony Cummings - Cross Rhythms 10/10